These blackberry scones are tender, buttery and packed with juicy blackberries! They are an easy to make, lightly sweetened treat that goes perfect with tea and coffee!
We love a good scone around here! They are perfect for breakfast or an afternoon tea (more likely coffee for me), and so simple to make. I especially love that I incorporate my favourite fruit into it.
Berries are at the top of my list as my favourite fruit to eat! And I especially love blackberries! On our last shopping trip, I bought loads of berries and have been enjoying snacking on them. I just had to incorporate the gorgeous blackberries I picked up into these delicious scones!
I love making scones and make them pretty often because they are so darn easy to do. If you have a food processor, this recipe is a cinch to make and literally takes only minutes (10 to be precise). No, really.
If you don't have a food processor, you can use a pastry cutter or two butter knives to incorporate the butter, so don't worry!
How to make Blackberry Scones
As mentioned above, this recipe is seriously easy to do! To make the scones, you will need:
2 cups all purpose flour
1/3 cup sugar
1 tablespoon baking powder
1/4 teaspoon salt
1/2 cup cold butter, cubed
1 egg
1/4 cup milk
1/4 cup vanilla flavoured Greek Yogurt
1/2 teaspoon vanilla extract
3/4 cup fresh blackberries
1 tablespoon milk
1 tablespoon sugar
For the glaze (which is optional and can be left out if you like), I use:
1 1/2 cups confectioners sugar (icing sugar)
2 tablespoons milk
To make these blackberry scones, I start by mixing the flour, sugar, baking powder, and salt in a food processor. Then I add the cold butter to it and pulse it until it resembles a coarse meal. This takes less than a minute to do!
Once the coarse meal is formed, I add the milk, yogurt, egg, and vanilla extract. I pulse it a little more until the dough begins to form. It will look a bit crumbly but that is okay. That is perfect!
I then transfer the dough to a floured surface and sprinkle the blackberries on top. Then, I fold them in gently and form a rough disc. You can adjust the thickness of the scones to your liking but I like to set mine at about 3/4 inch thickness.
Tip #1: Be careful not to overwork the dough. The blackberries will burst a bit as you form the disc. That's okay but you don't want to overmash them and end up with a purple looking dough. It will taste just as yummy but won't be as visually pleasing.
Tip #2: Use small firm, fresh berries to prevent over smushing them. If they are over ripe and already going soft and squishy, all the juice will run into the dough.
Once I form my disc, I use a biscuit cutter or cookie cutter to cut out 8 circles. Then I place them on a parchment lined baking sheet and brush them with a bit of milk and sprinkle them with sugar. Into the oven they go to bake for 15 minutes at 400F.
Transfer the biscuits to a cooling rack to cool completely before drizzling them with icing. The icing is optional but a nice touch I think!
I hope you enjoy these delicious little treats as much as I do!
Bon appetit!
-Cathy
You may also like:
Strawberry Scones
Blackberry Coffee Cake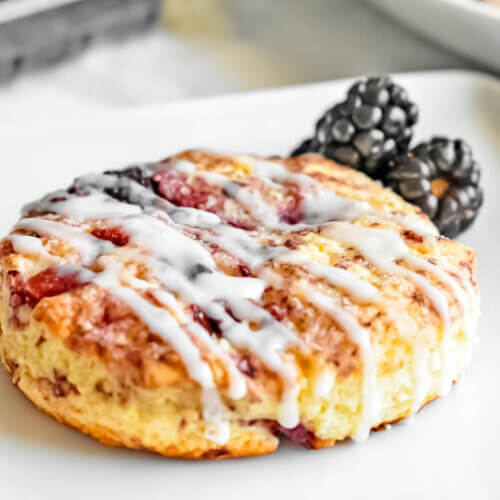 Blackberry Scones
These blackberry scones are tender, buttery and packed with juicy blackberries! They are an easy to make, lightly sweetened treat that goes perfect with tea and coffee!
Ingredients
Scones
2

cups

all purpose flour

1/3

cup

sugar

1

tablespoon

baking powder

1/4

teaspoon

salt

1/2

cup

butter

cold, cubed

1

large

egg

1/4

cup

milk

1/4

cup

Greek Yogurt

vanilla flavoured

1/2

teaspoon

vanilla extract

3/4

cup

blackberries

1

tablespoon

milk

1

tablespoon

sugar
Glaze
1 1/2

cups

confectioners sugar

(icing sugar or powdered sugar)

2

tablespoons

milk
Instructions
Preheat oven to 400F and line a baking sheet with parchment paper.

In a food processor, add the flour, sugar, baking powder and salt. Pulse a few time to mix it thoroughly. Add the butter and pulse until it forms a coarse meal. (If you do not have a food processor, simply stir the dry ingredients in a large bowl and use a pastry cutter or two butter knives to work the butter in until it forms a coarse meal.)

In a small bowl, whisk the egg, milk and yogurt together. Add it to the flour mixture and pulse until it combines into a wet but crumbly dough.

Transfer everything onto a clean, floured surface. It will be clumpy at this point. Sprinkle the blackberries over the crumbled dough. Using your hands, work the dough to help bring it together and shape it into a 8 inch disc,working gently and being careful not to overwork and mash up the blackberries too much (a little mashed up is good).

Cut the dough into 8 scones using a biscuit cutter and transfer onto the baking sheet, leaving at least an inch between wedges. Brush each scone with milk and sprinkle with some sugar. Bake for 15 minutes or until the scones begin to turn a nice golden brown. Let cool for 10 minutes.

In a bowl, add the confectioners sugar and milk. Stir to form the glaze. Drizzle the glaze over the scones.
Nutrition
Calories:
369
kcal
Carbohydrates:
59
g
Protein:
5
g
Fat:
13
g
Saturated Fat:
8
g
Polyunsaturated Fat:
1
g
Monounsaturated Fat:
3
g
Trans Fat:
1
g
Cholesterol:
55
mg
Sodium:
351
mg
Potassium:
95
mg
Fiber:
2
g
Sugar:
34
g
Vitamin A:
439
IU
Vitamin C:
3
mg
Calcium:
126
mg
Iron:
2
mg