This Tirokafteri or Spicy Greek Feta Dip is creamy, spicy and so delicious. This quick and easy spread requires only 5 ingredients and takes just 5 minutes to come together! It is the perfect addition to a mezze platter.
Tirokafteri, also called htipiti, is a feta-based dip that is popular across Greece. As with many Greek recipes, each region has its own version and while the full list of ingredients may vary, the basic and most important ingredients, Feta cheese and hot peppers, are fundamental to this famous spread, regardless of the region.
Tirokafteri gets its name by combining two Greek words- Tiri meaning cheese and kafteri meaning spicy. This dip is popular in Greece and beyond, and a popular appetizer or mezze in Greek restaurants. It is often served up at parties and an essential component of any mezze platter, if you ask me.
The tirokafteri recipe I am sharing with you today incorporates roasted red peppers, giving it a gorgeous colour. It is the recipe my mom has been making for as long as I can remember, and as with most things my mom makes, it is my absolute favourite version.
This recipe takes only 5 minutes to make, assuming you have roasted red peppers handy already. I use roasted red peppers which I have on hand in my freezer (thawed, of course) but you can roast them just before whipping up this dip or even use jarred peppers in a pinch.
Tirokafteri with and without roasted red peppers
A quick search of the internet will show you that tirokafteri recipes differ quite a bit. One of the most noticeable visual differences is in the colour, of course. Many recipes, like my moms, include roasted red pepper in the dip, making it a rich, gorgeous orange colour. That isn't true for all tirokafteri recipes and depending on the region of Greece you are from, adding roasted red peppers may not be traditional. Instead, it is left out of the recipe and a white dip is the result. Instead of roasted red pepper, yogurt is added to the dip in its place.
I personally prefer the roasted red pepper versions as they are mostly what I have enjoyed at family gatherings. My moms recipe is one of my favourites and I don't feel the need to stray from that.
If you are interested in swapping out the roasted pepper for yogurt instead, use Greek yogurt and start by adding 2 tablespoons to the food processor. You can add more if needed or even use some milk to thin out the dip if it is too thick.
Tips and substitutions for Tirokafteri
Chili peppers: Chili peppers are used to add spice to this dip, and they can come in the form of fresh chili peppers, dried or even chili flakes. Since everyone's spice tolerance is different, you should start by adding just a little pepper to your dip and then adjust it as needed to prevent creating a dip that is too hot to eat!


Red wine vinegar: If you don't have red wine vinegar on hand, you can use white wine vinegar, apple cider vinegar or a similar substitution.


Roasted red peppers: I use 2 medium roasted red peppers in my dip recipe but you can easily adjust this to suit your taste. If you are using jarred peppers and they do not come whole, its harder to tell how much is equal to 2 peppers. I recommend starting with about 1/2 a cup to 3/4 of a cup and adjust it to suit your own preferences.


Optional garnishes: Sprinkle some more feta and sprinkle with red pepper flakes if desired.
Ingredients in Tirokafteri
This simple recipe requires just 5 ingredients:
roasted red peppers
feta cheese
olive oil
red wine vinegar
red chili pepper or chili flakes
How to make Tirokafteri
This dip couldn't be easier to make. It really just requires adding the ingredients to a food processor and blitzing it until smooth.
Add ingredients to the food processor: To the food processor, add the roasted red peppers, feta cheese, olive oil, and vinegar.


Process until smooth: Wearing gloves, chop the red chili pepper in half and add half of it to the food processor. Process until the dip is smooth. Taste and if you desire more heat, add more of the red chili pepper and blitz again until it is smooth. [How much of the chili pepper you use depends on your spice tolerance. Adjust as needed.]
That's it! Seriously easy, right?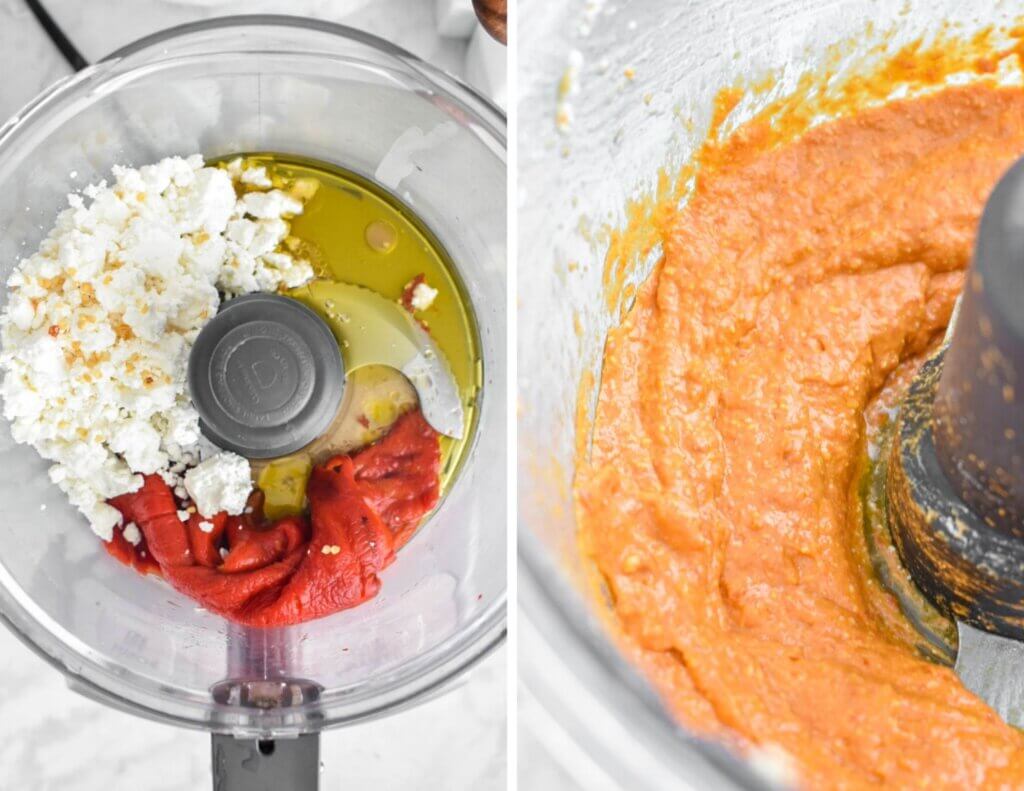 What to serve with tirokafteri
This spicy Greek feta dip goes great served alongside warm pita bread, crackers or sliced baguette. You can also serve this dip with raw veggies like carrot sticks, cucumber, grape tomatoes and celery sticks, for a healthier, low carb option.
While this dip is a great appetizer on its own, it makes a great addition to a mezze platter. Serve it it up on a platter with all of the dipping options mentioned above and add some keftedakia (Greek meatballs), Spanakopitakia, feta slices, or any other nibbly Greek snack you like!
Storing leftovers
Whether you are storing leftovers or making this dip in advance for a get-together, you can store it in an airtight container in the fridge. It will last a few days stored this way.
I hope you enjoy this family-favourite recipe! Kali orexi!
-Cathy
You may also like:
Chicken Zucchini Meatballs
Greek Spanakopita Chicken Meatballs
Air Fryer Zucchini Fries
Baba Ganoush Recipe

Tirokafteri (Spicy Greek Feta Dip)
This Tirokafteri or Spicy Greek Feta Dip is creamy, spicy and so delicious. This quick and easy spread takes just 5 minutes to come together and is the perfect addition to a mezze platter!
Ingredients
2 medium roasted red peppers
1 cup feta cheese (approx. 250g or 8.5oz), crumbled
3 tablespoons olive oil
2 tablespoons red wine vinegar (can sub a different vinegar as well)
1 red chili pepper or chili flakes (use as much as desired)
Instructions
To the food processor, add the roasted red peppers, feta cheese, olive oil, and vinegar.

Wearing gloves, chop the red chili pepper in half and add half of it to the food processor. Process until the dip is smooth. Taste and if you desire more heat, add more of the red chili pepper and blitz again until it is smooth. [How much of the chili pepper you use depends on your spice tolerance. Adjust as needed.]
Nutrition
Calories: 134kcalCarbohydrates: 2gProtein: 4gFat: 12gSaturated Fat: 4gPolyunsaturated Fat: 1gMonounsaturated Fat: 6gCholesterol: 22mgSodium: 455mgPotassium: 60mgFiber: 1gSugar: 1gVitamin A: 241IUVitamin C: 17mgCalcium: 130mgIron: 1mg