This crispy chicken cutlets recipe is ready in just 30 minutes and sure to deliver a weeknight meal the whole family will love! The chicken cutlets are breaded with seasoned panko breadcrumbs and fried until golden and crunchy for the perfect bite!
Chicken is a popular protein in our kitchen and chicken cutlets, specifically, are a favourite of mine. What's not to love with this quick to cook and versatile cut? Of all the ways to enjoy them, breading cutlets is a no-brainer. It truly has to be the most delicious way to prepare chicken cutlets and I am definitely a fan!
There is nothing better than a crispy bite of breaded chicken, in my opinion. And when that delicious dinner is whipped up in 30 minutes, I am truly happy! Winner winner chicken dinner!
The crispy chicken cutlet recipe I am sharing with you all today is simple and delicious. It uses panko breadcrumbs which give it a good crunchy exterior. Panko breadcrumbs give breadings added crispiness that traditional breadcrumbs just can't achieve, in my opinion.
The seasonings are pretty simple. Salt, pepper, paprika and a bit of Italian seasoning in the breadcrumbs is all it needs. If you would like to switch things up, you can add a bit of heat with cayenne pepper.
Everything in this recipe is things we have on hand at all times and I bet you do too! So what are we waiting for? Let's make dinner!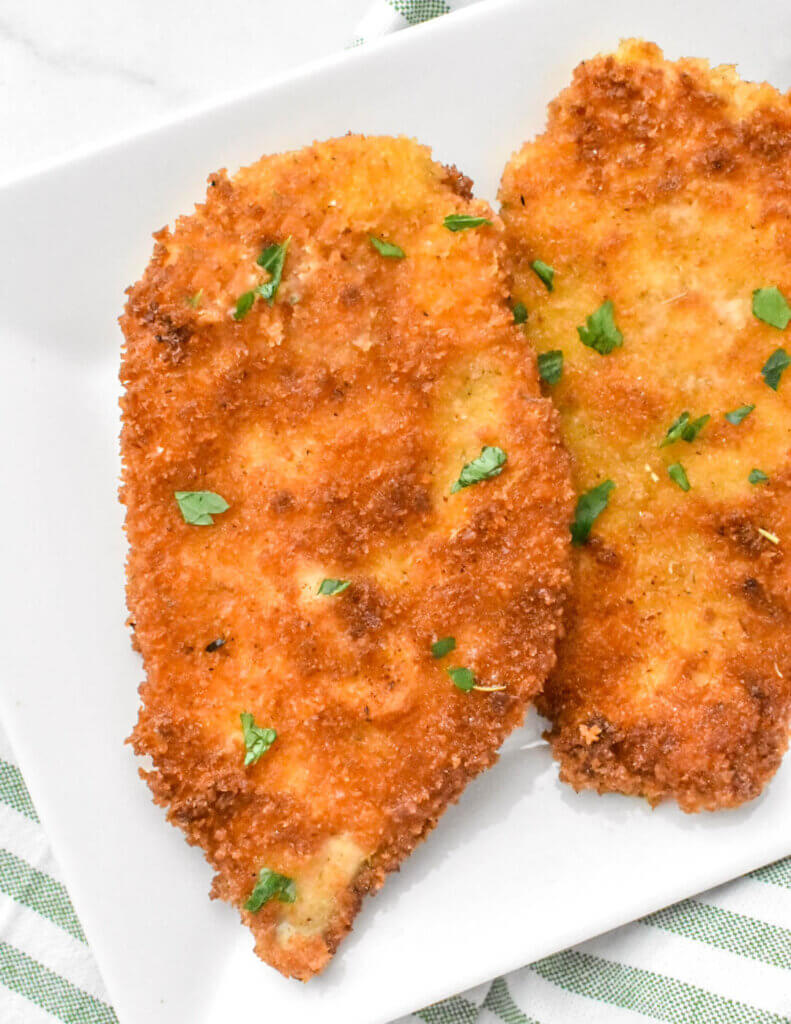 What do you need to make crispy chicken cutlets?
chicken cutlets


flour


salt


pepper


paprika


large eggs


panko breadcrumbs


Italian seasoning


oil for frying
Note: recipe quantities and full instructions are in the recipe card at the end of this post.
How do you get breading to stick to chicken?
The trick to getting your breading to stick to chicken (or pretty much anything you are breading, actually) is to create a a good "glue" for the breadcrumbs to stick to.
If you try to bread your chicken straight away, the panko will barely stick onto it. So to ensure a good "glue", you need to first dip the chicken in flour, then into egg.
Together, the flour and egg will make a paste for the panko crumbs to adhere to. Both flour and egg are essential here. If you try to skip the flour step, the egg will slide right off. The flour helps the egg stick and the egg helps the breadcrumbs stick. Together, they get the job done!
How to make Crispy Chicken Cutlets
Making these cutlets is as easy as 1, 2 3!
Prepare your dredge. I have by 3 shallow bowls set up to prepare dredging the chicken in the coating. In one bowl I mix flour, paprika, salt and pepper. In the second bowl, I whisk the eggs. And in the third bowl, panko breadcrumbs is mixed with Italian seasoning and some salt.


Pat your chicken dry and then dip it first in the flour, then the egg and finally the panko.


Fry the cutlets in the heated oil for a few minutes on each side. Check the temperature to ensure they are cooked through.
That's pretty much it!
Tips for making breaded chicken cutlets
If you can't find chicken cutlets, make your own from chicken breast. To make your own cutlets from chicken breast, slice a chicken breast in half horizontally.

Aim for 1/4 inch thickness in your cutlets. The cutlets I buy from the grocery store are usually about a 1/4 inch thickness so I often skip this step but if you are making your own cutlets from chicken breast, then you may need to flatten them out a bit. If you're chicken cutlets are thick (more than a 1/4 inch in thickness), place each cutlet between two pieces of plastic food wrap and use a meat mallet, heavy bottomed pan or a rolling pin to pound them a bit and make them thinner. Aim for an even thickness to ensure it cooks evenly.


Use shallow flat-bottomed bowls or dishes for your dredge. Since you will be dipping your cutlets into the flour, egg and breadcrumbs before frying, this is the easiest way to ensure you get a good coating on your cutlet.


Coat one cutlet at a time. You don't want the cutlets to overlap and then you miss coating a portion of them.


Test your oil by dropping in a bit of panko breadcrumbs to test if it is hot enough.


If you're chicken is browning too quickly, adjust the temperature for the remaining batches.


Use a meat thermometer to test doneness. When it comes to chicken, I don't take chances. Sometimes the oil is so hot it browns the chicken quickly but the inside is still not at a safe temperature. A meat thermometer is always handy when I am cooking proteins in my kitchen.
What's the best way to reheat breaded chicken cutlets?
The best way to reheat your leftovers is in the oven or an air fryer. The breading for chicken cutlets is its crispiest when it is first fried and stored leftovers will become a little soggy in the fridge as the breading absorbs the moisture.
To regain some of that crispiness, pop them in the oven or an air fryer to reheat them. I personally find the air fryer gets the best results but the oven is a good substitute if you don't have one. Avoid using the microwave as this will make the breading soggy.
What to serve with breaded chicken cutlets
The best thing about these crispy chicken cutlets is that they are so darn delicious. They are perfect as they are but also super delicious smothered in Chicken Gravy! The second best thing is that they go with so many side options, putting dinner together without it feeling boring is so easy to do! While you are free to choose your own families favourite sides, I have listed below some of our favourites.
You may also like:
I hope you enjoy this recipe! If you try it and love it as much as I do, I would love to hear about it! Leave a rating and/or comment below to let me know!
Crispy Chicken Cutlets
This crispy chicken cutlets recipe is ready in just 30 minutes and sure to deliver a weeknight meal the whole family will love! The chicken cutlets are breaded with seasoned panko breadcrumbs and fried until golden and crunchy for the perfect bite!
Ingredients
6 chicken cutlets (or 3 chicken breasts, cut horizontally to produce 6 cutlets)
1/2 cup flour
1 1/2 teaspoon salt divided
1/4 teaspoon pepper
1 teaspoon paprika
2 large eggs whisked
2 cups panko breadcrumbs
1 teaspoon Italian seasoning
oil for frying
Instructions
Pat cutlets dry and set aside. (Note: If they are more than 1/4 inch thick, place the cutlets between two pieces of plastic food wrap and gently pound with a meat mallet or a rolling pin.)

In a shallow dish, mix the flour, paprika, 1 teaspoon salt and pepper.

In a separate shallow dish, whisk the eggs.

In a third shallow bowl, mix the panko breadcrumbs, 1/2 teaspoon salt and Italian seasoning.

Working with one cutlet at a time, dip it in the flour mixture, ensuring it is coated on both sides. Then dip the floured cutlet into the egg and finally into the panko breadcrumbs. Repeat with all of the other cutlets.

Heat oil in a large skillet over medium heat and then add cutlets, working in batches (I usually cook 2 or 3 at a time but this will depend on the size of your skillet and cutlets. Be careful not to overcrowd the pan or have cutlets overlap to ensure even cooking). Fry them for 3 minutes on each side or until they are fully cooked through. (Note: Check the temperature with a meat thermometer to ensure it is cooked). If the cutlets are browning too quickly, reduce heat for remaining batches.
Notes
Note: Nutritional information is an estimate that does not include the oil absorbed during frying.
Nutrition
Calories: 336kcalCarbohydrates: 23gProtein: 42gFat: 7gSaturated Fat: 2gPolyunsaturated Fat: 1gMonounsaturated Fat: 2gTrans Fat: 1gCholesterol: 171mgSodium: 949mgPotassium: 710mgFiber: 1gSugar: 1gVitamin A: 173IUVitamin C: 3mgCalcium: 62mgIron: 3mg