Ditch the deep-fryer and make healthier Air Fryer Falafel instead! These falafel have a crispy outer shell and are soft and tender inside. This vegan, gluten-free recipe comes together in just 20 minutes too!
Falafels are a go-to meal for us when we want something quick, nutritious and plant-based. They are so easy to make, especially since we always have a can of chickpeas around (more likely multiple cans – ha!). This meal always comes in to save the day when we haven't stocked up on things from the grocery store. The ingredients are simple and things we always have on hand. But the best part? This healthy meal is incredibly easy and takes less than half an hour!
While traditional falafel can take longer to make as it uses dried chickpeas which take much longer to cook, I opt for canned in my recipe. This is air fryer cooking after all and to me, the whole point is to make quick and easy meals. So this is as easy as it comes. Save the liquid from the chickpea can (the aquafaba) to make my Healthy Chocolate Mousse!
I have made Homemade Falafel by frying it before, and they sure are delicious, but the air fryer makes it so much healthier. The base recipe is pretty much the same but the end result is a bit different. I mean, frying them in oil will produce a different texture, but I feel good about the air fryer version as it cuts down on the grease and doesn't require me to stand over a pan as they cook.
Truly, this has to be the easiest way to make falafel at home. With the exception of shaping the falafel balls, the rest of the recipe is pretty hands off, freeing you up to do other things as they cook up.
Simple steps to making the best Air Fryer Falafel
This recipe is super easy to do and even younger cooks will be able to give you a hand with this simple meal!
First, the mixture comes together quickly in a food processor. Just dump in all of the ingredients and pulse.
Second, you form the balls.
Finally, you spritz them with some oil and cook them in the air fryer. The oil is optional but I think it gives them a nicer outer crunch. I flip them once while they cook so they get an even exterior. If you forget to do that (someone typing this may have done that before…), they still turn out great anyway.
That's my idea of stress-free cooking, you guys! Even novice cooks can get a healthy meal on the table this way.
Is falafel gluten-free and vegan?
Falafel is naturally dairy-free and egg-free so this meal is vegan-friendly! Whether you are vegan or not, it makes a nutritious plant-based meal that is both tasty and good for you.
Whether falafel is gluten-free depends on the flour you use. I use chickpea flour in my falafel and so it is gluten-free. As long as you use a gluten-free flour alternative in yours (you can easily sub an AP gluten-free flour, GF oat flour, etc), and make sure your baking powder is GF too, then you have yourself a gluten-free falafel.
Can you meal prep falafel?
You sure can! I love a good meal prep recipe and this is definitely one of them. You can totally whip these up on the weekend and have them ready to go for a weeknight dinner or lunches. You can also freeze them for future use so if you want to double the recipe, go right ahead and freeze up some portions for future meals.
Not only can you pre-cook the falafel and have it ready on hand, if you wish to, you can just premix the falafel mixture and save the cooking for the next day.
How do you store and reheat falafel?
If you are pre-making the falafel mixture and saving the cooking for the next day, just store it in an air-tight container in the fridge. You can even pre-shape the balls if you like and place them in a baking dish covered with plastic food wrap.
Cooked falafel can also be stored in the fridge in an air-tight container. Wait for it to cool before storing it in the fridge. You can also freeze them in a freezer safe container or bag.
To reheat, I recommend using the air fryer again. I just set mine to 350F and cook them until heated through, which takes only a few minutes.
How to serve Air Fryer Falafel
Falafel is so versatile and can be transformed into a full meal in so many ways. My favourites include:
adding them to a salad
turning them into a wrap with pita bread
serving them up with fries and veggies
You can even eat these as a healthy snack with a good dip.
I hope you enjoy this recipe! If you try these and love them as much as I do, please leave a comment or rate the recipe below! Thanks!
Bon appetit!
-Cathy
You may also like:
Air Fryer Zucchini Fries
Zucchini Fritters
Greek Chickpea Soup (Revithosoupa)
Healthy Chocolate Mousse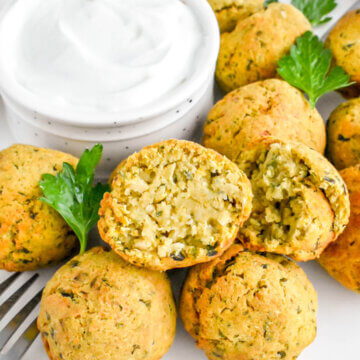 Air Fryer Falafel
Ditch the deep-fryer and make healthier Air Fryer Falafel instead! These falafel have a crispy outer shell and are soft and tender inside. This vegan, gluten-free recipe comes together in just 20 minutes too!
Ingredients
2 cups chickpeas (about 1 can), drained and rinsed
1/2 onion medium size, roughly chopped
1/2 teaspoon salt
1 teaspoon ground cumin
1 teaspoon ground coriander
1 teaspoon baking powder
1/4 cup chickpea flour (or regular flour if not gluten-free)
1/4 cup parsley finely chopped
Instructions
Preheat air fryer at 375F.

Place the chickpeas and all of the other ingredients in a food processor and process until the mixture resembles a coarse meal.

Using a cookie scoop or tablespoon, scoop out a heaping tablespoon of mixture and roll it between your hands to form a ball. Set on a plate or baking sheet. Repeat with the rest of the mixture. It should make about 14 falafel balls.

Once the air fryer is pre-heated, transfer the balls into it and spray them with cooking oil. You may need to cook them in batches so they are not touching in the air fryer basket. Cook them for 15 minutes, flipping them about halfway through the cooking time.
Nutrition
Calories: 50kcalCarbohydrates: 8gProtein: 3gFat: 1gSaturated Fat: 1gPolyunsaturated Fat: 1gMonounsaturated Fat: 1gSodium: 117mgPotassium: 102mgFiber: 2gSugar: 2gVitamin A: 99IUVitamin C: 2mgCalcium: 34mgIron: 1mg